News & Events
---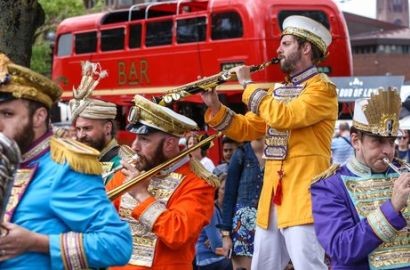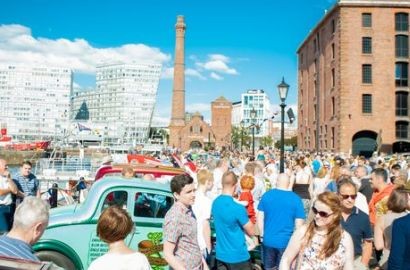 Albert Dock reveals FREE 2016 family events programme.
30th March 2016
Designer Wayne Hemingway will return to the city for an exciting programme of free family events hosted by Albert Dock in Liverpool.
Wayne and wife Gerardine Hemingway bring with them their world-famous vintage festival - a celebration of 20th century vintage cool.
The festival is part of a whole host of free family events in 2016 that were revealed today by the Albert Dock.
The Merseyside attraction will bring a cultural explosion and celebration of music, fashion, steamboats, trains, and even pirates to the city.
Wayne said: "In 2015 we weaved a little bit of vintage magic through Albert Dock's historic spaces, and we can't wait to do it all again in 2016.
"Music, fashion and culture is firmly ingrained in the fabric of the city, and Vintage on the Dock will bring all that to the fore in a way that never looked so good."
Visitors to the Dock this year will also witness never-before-seen spectaculars on Liverpool's iconic waterfront, as well as the return of some old favourites.
Steam on the Dock (running from May 6 to 8)
The whole family are invited to step aboard for the UK's only inner-city steam rally.
Don your flat cap, toot those whistles and witness the monsters of the industrial age roll into Albert Dock, and marvel at coal-powered steamboats as they once more chug and puff around Liverpool's waterways, celebrating the industrial heritage of Albert Dock and the city's historic working docklands.
LightNight on the Dock (May 13)
Commissioned for LightNight by Albert Dock Liverpool, created by TiLT and produced by Open Culture - comes Météo-Dock - an experimental weather ship.
Launching from the Kathleen and May schooner, this promenade performance will see an eight-strong crew of dancers and musicians create a show that is an unfolding, processional conveyor-belt, celebrating the ever-changing meteorological conditions of Albert Dock.
With support from Albert Dock Liverpool, Tate Liverpool will also be hosting the Mad Science workshops - where the whole family can join the scientists experimenting and creating amazing things using light and colour.
Vintage on the Dock (running from July 9 to 10)
Visitors looking for some seriously stylish eye candy can browse the vintage marketplace as designers Wayne and Gerardine Hemingway return to the city with this huge vintage festival.
Expect diverse and incredible street food traders in vintage vehicles, immersive street performances that wander through the evocative dockside architecture, DJs that keep the crowds on their feet all day and creative workshops for all the family.
Folk on the Dock (running from August 27 to 29)
Folk on the Dock will bring together the city's rich music and maritime heritage in an exuberant celebration of live acoustic folk, sea shanty and folk rock over the August bank holiday weekend.
It will also include the remarkable story of how the ships and crews coming through Liverpool's docks shaped the musical landscape of the city forever - further cementing its status as a UNESCO City of Music.
Pirates on the Dock (running from September 10 to 11)
Liverpool Pirate Festival returns with a new name - Pirates on the Dock.
Expect thrilling live action under sail and breathtaking stunts, this year interwoven with local folklore and the fascinating heritage of the Liverpool privateers plus swashbuckling and live action drama.
For more information on Albert Dock please visit their website or follow on Facebook or Twitter.