News & Events
---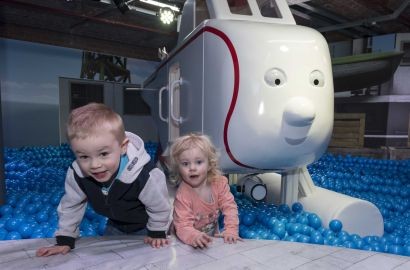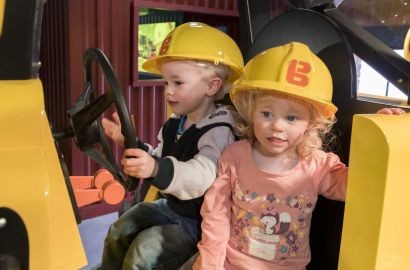 Let Them Be Small Review
23rd March 2016
With massive thanks to Let them be Small for this great review.
To read this review on the Let them be Small website please click here.
I was thrilled today to be able to take the children on a special day out. We headed across the m62 to Liverpool to a press day for the new Mattel Play at Albert Docks.
Mattel Play is an indoor play centre with three themed areas, Thomas & Friends, Bob the Builder and Fireman Sam. Both Mr D and Miss E are Thomas mad, so I was excited for them to 'meet' their heroes!
The centre is situated on Albert Docks and parking was easy enough. We headed across and the children were so excited to see the large pictures on the windows of Thomas and Rosie. We headed in and there is a cafe at the entrance and a seating area. We were soon invited into the first zone, which much to the children's delight is Thomas.
I was really impressed with just how well thought out the whole place is. It is very much done with children in mind; everything is at child level and child sized (which does mean for taller adults there might be a bit of ducking down to pass the doorways!). As you enter the Thomas zone there is a ticket office where the children can role play before heading in to the large Thomas. Mr D and Miss E literally didn't know what to do – they jumped straight onto Thomas and had a good play before spotting Rosie and Percy and an upturned Troublesome Truck. We had a good look around and the children explored the whole area and they had great fun on the turntable and playing on the trains.
There is also a smaller set of trains that the children can play on and go around a small track and then go into Farmer McColls Farm. This again is really well thought out with a vegetable patch that the children can load up before picking the vegetables and posting into the relevant place at the farm. The children were really engaged in this, and it would be a good prompt to talk about food and where it comes from etc.
We then headed around the corner to a gigantic ball pit – this was really impressive and the children couldn't wait to get in! There is a Harold Helicopter here and they had great fun clambering all over him and jumping into the ball pit. I secretly wanted to jump into this with them as it looked like great fun.
There is an awful lot to see and do in the Thomas area and the children would happily have stayed in this zone for much longer.
We moved on to the Bob the Builder zone next. the first thing that greets you is a large 'Scoop' digger. The children jumped straight onto this and had great fun turning the lights on and playing here. They then spotted the builders hats so grabbed one of those before heading back to drive Scoop again.
This area is really well set up with lots to see and do. There is a good area for building which is set up with benches and boxes of duplo and mega blocks type things and a brilliant drawing area which would be great for older children. My two had a look around here and had a quick play with the duplo before heading off.
Mr D and Miss E haven't really seen Bob the Builder before but they were pretty engaged in the whole area and we spent a good while here exploring and playing. Mr D enjoyed playing with the small diggers in the sand, Miss E tried these but they were a bit beyond here at the moment!
As soon as the children spotted the picture of Fireman Sam at the back of the Bob the Builder zone they wanted to head off so they hung up their hats and off we went.
This zone is down stairs and the walls are adorned with really bright pictures which the children stopped to look at and point out the things they could see. As you enter the Fireman Sam zone you're prompted to collect a hat – which the children did eagerly and then move in. They both ran straight to the fire engine and spent ages here playing with it and turning the engine on and off and playing the siren sound.
I managed to, eventually, convince them to go and take a look at the other parts of this area and they soon discovered a fire that needed putting out as well as a boat and other things to play on. There is a small slide that they had fun with as well as fireman's pole that they can play with.
There is a shop and they both had great fun choosing items and buying them before heading back out to put more fires out! The Fireman Sam area is the smallest area but it is, like the whole centre, really well thought out with so much to see and do and for the children to play with. I liked the variety of things and the fact that they are just so accessible for small children. Miss E has just turned two and isn't the biggest child and she was easily able to clamber aboard the trains, diggers and boats.
We ended up doing two loops of the zones and the children had a blast – we then ended up with a third tour for the official photographer to get some pictures which was good fun (although I wonder how these will turn out given the children weren't being too co-operative!)
We then headed down to the green screen where the children got their picture taken and converted into a keyring – they were thrilled with these and have been clutching them ever since – showing them off! There's a shop area which sells items for the three character zones and a small cafe area. the cafe prices looked to be reasonable and I'd be happy to stop for a coffee etc after a busy few hours.
There are party rooms available and I can imagine that any young child would love this as a birthday party destination – it would certainly be an excellent destination! Mattel Play Liverpool is open 9am – 6pm seven days a week and a minimum of two hour visit time is suggested to enjoy the three themed zones. I think this is about right – whilst we were there for the press event it was quiet so the children could explore whatever they wanted without having to wait their turn. Two hours was enough for them (they were exhausted and soon fell asleep on the way home!) and I felt that we saw everything and they got plenty of time to play on all the things they wanted to, taking into account it will be busier when it is open two hours seems reasonable.
Mattel Play Liverpool opens officially tomorrow and there is currently an introductory price of £10 per child and £2 for accompanying adult. Babies up to 12 months old are free of charge. If visiting during school term time there is a rate of £10 for parent and child and this includes a drink for both the child and parent.
The children had a ball and we will be sure to be back in the coming months to explore again. Liverpool isn't a city I know very well but it looks like there are a few things to see and do near the docks. On our way out and back to the car we stopped to look at the boats and on a warm summers day it would be a great location to stop and take in the day.