News & Events
---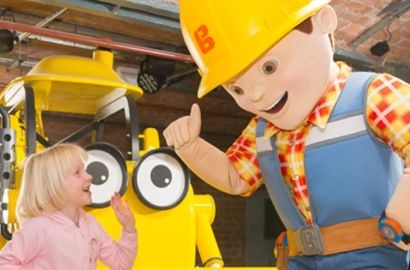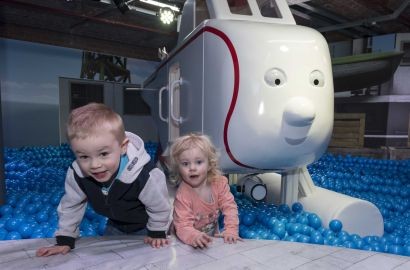 Little Miss Out and About Review
27th April 2016
With thanks to Little Miss Out and About for this review.
To read this review on the Little Miss Out and About website please click here.
I've been eager to visit Mattel Play! Liverpool on the Albert Dock in Liverpool since it opened last month, but have been holding out for the kids to go back to school after Easter. So on a rainy Monday morning I decided it was the perfect opportunity and took advantage of their £10 parent and toddler ticket.
You're given a wristband when you arrive and told what time your two hour slot is up, we headed up the stairs and into the first of the 3 zones which is Thomas & Friends, where you explore Sodor. Little Miss got involved in the action straight away, climbing on Thomas and playing with the wheels and levers.
She then was keen to say hello to Percy and climb on Rosie, pointing out the coal fire. She then spotted the mini train to ride on which kids can move forward themselves, but I pushed it so it got up a bit more speed. I was really impressed with the sound it made on the tracks – very realistic!
The track surrounds Farmer McColl's farm where Little Miss collected vegetables in the little buckets provided and planted carrots in the ground.
We then headed over to the big ball pool where you find Harold. She really loved this bit and we went back again before we left. You climb onto Harold and discover a little slide on the back – Little Miss was overjoyed!
She loved the Thomas & Friends area, but I was conscious of our time slot so moved her on to Bob the Builder's yard.
We went to get kitted out in waistcoats and hard hats and there was a play kitchen which Little Miss immediately interacted with. I tried to encourage her to give Bob a 'cheers' with a mug but she wasn't keen on approaching him.
Little Miss then climbed on the digger, turned on the engine and really enjoyed driving it. I encouraged her to give other children a turn so we moved on to some Mega Bloks construction, then some pipe work and finally digging for rocks in the sand.
After another go on the digger I encouraged Little Miss to head downstairs to the Fireman Sam zone. She put on her helmet and got stuck in with some firefighting off a boat with some wind sock hoses!
Then she spotted the slide, so had a few goes of that, excitedly missing the jet ski that sat above the slide, so I took her back up and sat her on it for a quick photo.
After a few more goes on the slide she had a play in Pontypandy shop, then climbed in the fire engine, grabbing the wheel when the opportunity arose.
It was getting close to our end time so we had a quick go on the mini fire pole (I helped her down) and then headed back upstairs for one last go on the Harold Helicopter slide before making our way out.
Mattel Play! Liverpool is a really fantastic few hours of fun-filled activity. It can get a little crazy, dashing from one thing to the next, but there are so many interactive elements it was lovely to see her run around all excited by her surroundings. We'll definitely be back.